Package Contents (R) 4-Piston Monobloc Calipers, 380x28mm (15'') 2-Piece Discs, Complete Axle Set, Pre-Assembled, All Necessary Hardware Included
Front or Rear System Shown Rear
Intended Use Street/Track


Suitable for all F87 M2, M2 Competition & M2 CS Coupe, F80 M3 Sedan, F82 M4 Coupe and F83 M4 Convertible models with or without factory Carbon Ceramic Brakes (CCB).


Wheel Fitment

All photos shown are for demonstration purposes only and may not reflect the actual specifications of this kit. Please contact us if you have any questions.


PRODUCT SPECIFICATIONS
Caliper
Caliper Body | Cast Monobloc Radial Mount
Caliper Colour | Red, Black, Yellow, White or Fluorescent Yellow
Caliper Piston Configuration | 4-Piston
Caliper Piston Design And Insert Type | Inner Pressure Seal / OEM Approved Dust Boot


Disc
Disc Type | Cross Drilled, TY1 (Slotted) or TY3
Disc Material/Finish | Advanced High Carbon Alloy / Corrosion Resistant Plating
Disc Diameter | 380mm
Disc Width (Measurement) | 28mm
Disc Air Gap (Measurement) | 16mm
Disc Annulus (Measurement) | 54mm
Disc Construction | 2-Piece Disc Assembly
Disc Vane Design (Measurement) | Vented Curved 48 Vane
Disc To Hat Mounting System | Floating D-Bobbin with Anti Rattle Spring


Friction Material
Pad Compound | Brembo High Performance FM1000
Pad Volume / Surface Area | 76.4 | 62.1


Included Hardware
Brake Lines | Proprietary Brembo Stainless Steel Braided Brake Lines by Goodridge
Mounting Hardware | Brembo Engineered CNC Billet Caliper Adapters - All Necessary Hardware Included For Ease of Installation


BREMBO GT | BM BRAKE SYSTEMS
Performance and style: for those who want the very best from their car.​
Brembo's GT | BM braking systems are designed and tested for those who want the very best from their car. They offer high-level performance both in normal road use as well as for the demanding days on the track, with a unique style given by Brembo's exclusive geometries and design.

The Brembo GT | BM kits consist of composite and one-piece ventilated discs that can be either drilled or slotted, aluminium monobloc calipers with 4, 6 and 8 pistons; a complete set of high performance pads; metal-braided hoses and high quality hardware. ​​​


​Unparalleled technology, performance and design​.​
​It's a braking system that is characterized by a technology, performance and design level that is unparalleled on the market.

Brembo's GT | BM kits are designed to combine the best technical solutions and therefore to properly respond to the peculiarities of each vehicle. The aluminium monobloc calipers are the heart of the kit. They are machined from a single billet of aluminium that has been cast in Brembo's foundry. This ensures outstanding rigidity and minimized deformation. The discs that are provided in the kit have a unique ventilation system that improves the cooling capacity and increases by over 40% the resistance to the cracking that is caused by thermal shock. Additionally, the discs may be floating or one-piece, depending on the car model. ​​


An innovative 4D technology casting process​.​
The brake calipers for the GT | BM systems are made using an innovative 4D technology casting process used here for the first time ever in the manufacturing of car calipers. This casting process makes use of a technology that has allowed Brembo to offer a design that is completely different compared to what is generally offered for this type of calipers. With this technology, the caliper has technical features that are generally found only on racing calipers that are machined from billet or forged.
All the calipers in the GT | BM braking systems are cast with internal fluid lines rather than with the more conventional external rigid pipe connections. The bleeding screw is invisible therefore it fits better within the overall design and this ensures greater safety and freedom of design.
The family of GT | BM calipers stands out for the higher degree of efficiency in terms of architecture and style thanks to the lack of aesthetic limits that are typical of calipers that are cast using traditional methods. ​
Drilled or slotted discs​.
Special attention is paid to the design and implementation of the finishing process for the drilling and slotting that help dissipate heat and eliminate brake dust and gases.

The kit also includes a set of high performance pads and metal-braided hoses, that are DOT approved, the adapter and high quality fastening hardware. ​


On the track with more braking torque and greater thermal capacity​.
The radial-mounted fixed calipers and the oversized discs give the brakes more braking torque and greater thermal capacity. The result is a more immediate and decisive braking that can be noticed even during normal road usage but that is also incredibly powerful and consistent during the many consecutive days spent on the track.
The fixed calipers improve the system's durability and efficiency since the use of several opposed pistons allows an enhanced distribution of the pads' action as well as a more uniform wear on the friction surfaces. The outstanding rigidity of the calipers and the use of metal-braided hoses ensure that brake fluid absorption is reduced. This provides more responsive, stable pressure on the brake pedal thus improving pedal feeling and modulation.
Finally, due to the aluminium alloy bell, the system with oversized floating disc reduces the unsprung weight (for improved handling) and thermal stress. The mounting system is engineered to permit a greater degree of both radial and axial float.
This feature adds to the larger braking surface and allows better dissipation of the heat that is generated by the repeated, intense thermal stress that the discs have to withstand. This keeps the braking performance and pedal feel consistent even after several laps.


A unique, eye-catching look.
The GT | BM kits' painted calipers (available in: Red, Black, White, Yellow and Neon Yellow) that display Brembo's logo together with the slotted or drilled discs give an unmistakably sporty and eye-catching look to the car. This appeals to whoever wants to enhance their vehicle's design and stand out from the crowd.​
The monobloc caliper's design and geometries are unique and give an unrivalled aggressive and futuristic look to the sportiest cars. This new caliper reflects Brembo's principles in developing new and innovative products that stand out for their elegant design. The GT | BM calipers are manufactured in the same plant as the company's racing brake systems and are the result of Brembo's 40 years of experience in motor sports . All this is concentrated in a high performance street caliper with a distinctive look.​
GT | BM4, GT | BM6, GT | BM8: to each their own​.
The GT | BM braking system family features brake calipers with different designs and number of pistons (GT | BM4 with 4 pistons, GT | BM6 with 6 pistons up to GT | BM8 with 8 opposed pistons) combined with discs of various sizes up to 420 mm x 40 mm.
Developed to improve overall performance when braking, the GT | BM8 braking systems provide a constant braking force under intense conditions.
The GT | BM8 system's four pads use a larger braking surface thus improving performance and pad wear, while communicating a more aggressive "bite feel" to the driver.
As well as delivering superior braking performance, the GT | BM8 also stands out for its design aesthetics that fill the large openings on the 22 inch wheels of heavy vehicles and modern SUVs.
The GT | BM6 braking systems, on the other hand, have been developed to increase overall performance during braking for all high performing sports sedans. They also provide a consistent braking force under intense conditions.
Finally, the GT | BM4 braking systems, with brake discs up to 380 mm x 30 mm, are suitable for the rear braking systems on larger vehicles as well as for the front systems on relatively smaller cars.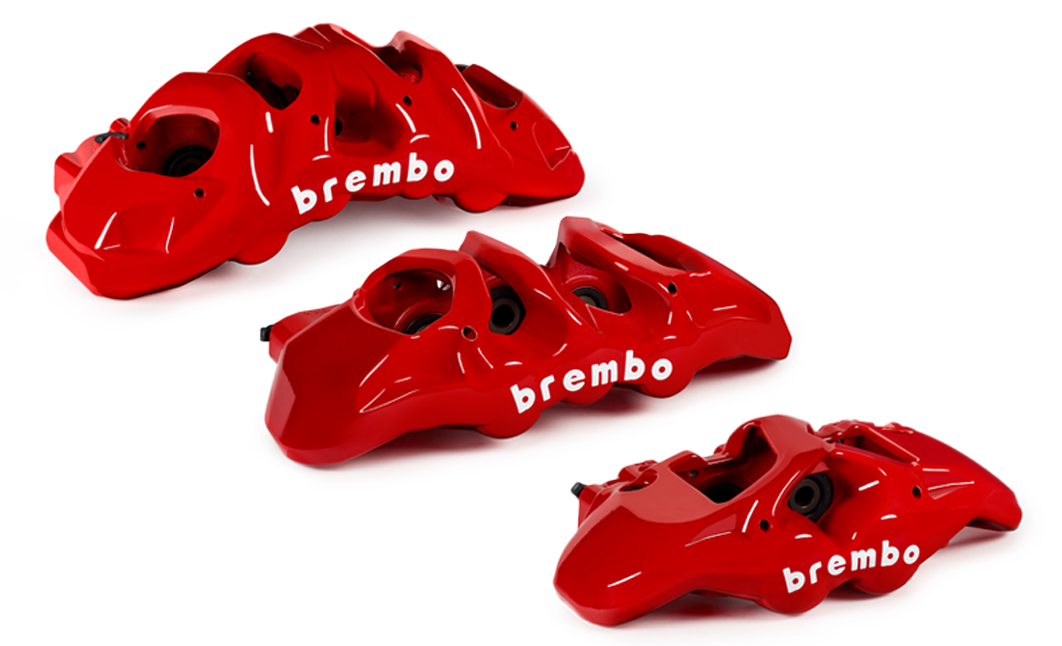 The assurance of an Original product​.
The counterfeiting of Brembo brake systems, as with many products made by the most iconic brands, is unfortunately something that is becoming more and more widespread. In this case, it is something that is potentially much more dangerous because it regards the performance of active safety systems which are vital to the safety of drivers, passengers and other road users.
Brembo has always guaranteed the safety and reliability of its own parts and has developed an app called Brembo Check which can be used simply and quickly to certify that its products are genuine ones.
With Brembo Check installed on your mobile device, all you have to do when you buy an UPGRADE product is use your smartphone to scan the unique QR Code on the label which can easily be seen on the purchased component or on the box, as in the SPORT range, to know if the Brembo product is original or not.
To prevent tampering, the label is made using a printing and application procedure which prevents it from being removed; if you try to remove it, you damage the QR Code making it unusable. In this way, the label cannot be detached and cannot be affixed to any other products other than the original one. ​
Click here for further information.
Models
2 Series / F87 M2 (2016-2021) / M2 Competition
2 Series / F87 M2 (2016-2021) / M2
2 Series / F87 M2 (2016-2021) / M2 CS
3 Series / F80 M3 (2014-2019) / M3
3 Series / F80 M3 (2014-2019) / M3 Competition
3 Series / F80 M3 (2014-2019) / M3 CS
4 Series / F82 / F83 (2014-2019) / M4
4 Series / F82 / F83 (2014-2019) / M4 Competition
4 Series / F82 / F83 (2014-2019) / M4 CS
4 Series / F82 / F83 (2014-2019) / M4 GTS