Introducing the complete Eventuri E9X M3 Carbon Fibre Intake Sytem featuring the Carbon Fibre Plenum, Airbox Lid and Intake System.


Carbon Intake Plenum
Made from 100% high grade prepreg carbon including the internal trumpets, this plenum replaces the stock plastic version and unleashes the roar of the naturally aspirated BMW V8 engine. Since the trumpet lengths are tuned by BMW to the internal volume, changing this could result in a loss of performance so Eventuri kept the same volume to not upset the way the car drives in terms of power delivery.
Although there isn't a performance gain from the carbon plenum, the induction sound generated takes the driving experience of the M3 to a whole new level. The raw V8 rumble gives the M3 an almost CSL like sound and is truly an intoxicating experience. Eventuri went through several iterations using different carbon thicknesses to fine tune the sound and the resulting plenum generates an almost unbelievable induction volume and tone.
This plenum can be used with the OEM airbox or any aftermarket intake system. Further information can be found
here
.
Carbon Intake System
The BMW E9x M3 Eventuri intake system is the result of extensive research and optimisation which improves possibly one of the best designed stock intake systems we have seen. The E9x M3 stock airbox system is a brilliantly designed intake with an excellent flow path and feed system for ambient air. However on closer inspection, Eventuri found are restrictions in the inlet tube connecting the airbox to the inlet manifold. By redesigning the tube yet maintaining the airbox, Eventuri have been able to allow the V8 engine to breathe with greater efficiency and therefore gain power.
In addition to the new tube design, Eventuri also identified a further restriction in the air feed system. To overcome this they designed a scoop to allow an increase in airflow through the airbox. This reduces inlet temperature values further and adds to the performance gain of the system.
Further information about the intake system can be found
here
.
Performance Gain Dyno: 8-10hp, 10-12ft-lb
Performance Gain Road Dyno (Insoric): 16hp, 14Nm
IAT Difference with Ambient: Stock 7.5C : Eventuri 4.5C
V-Box Acceleration : 100-200kph Reduced By 0.3 Seconds
Carbon Airbox Lid
The Eventuri E9X M3 Airbox lid is a direct replacement for the OEM plastic version. Crafted from Prepreg Carbon Fibre it allows for more intake sound to be heard as compared to the OEM lid. The fitment is perfect and secures in the same way as the stock part.
All the components come together in the engine bay to produce a genuine improvement in the driving experience as well as providing an incredible visual display of form and function in complete harmony.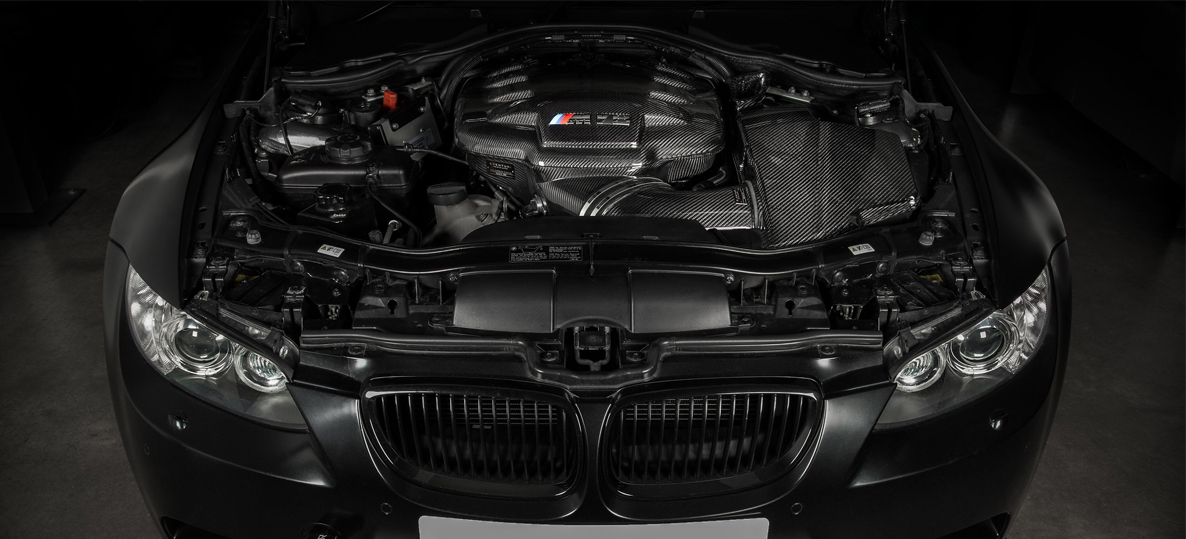 The Eventuri E9x M3 Carbon Intake System consists of a number of components engineered to perform a specific purpose and fabricated to the highest of standards.
Kit contents
Models
3 Series / E90 / E91 / E92 / E93 (2005-2013) / M3